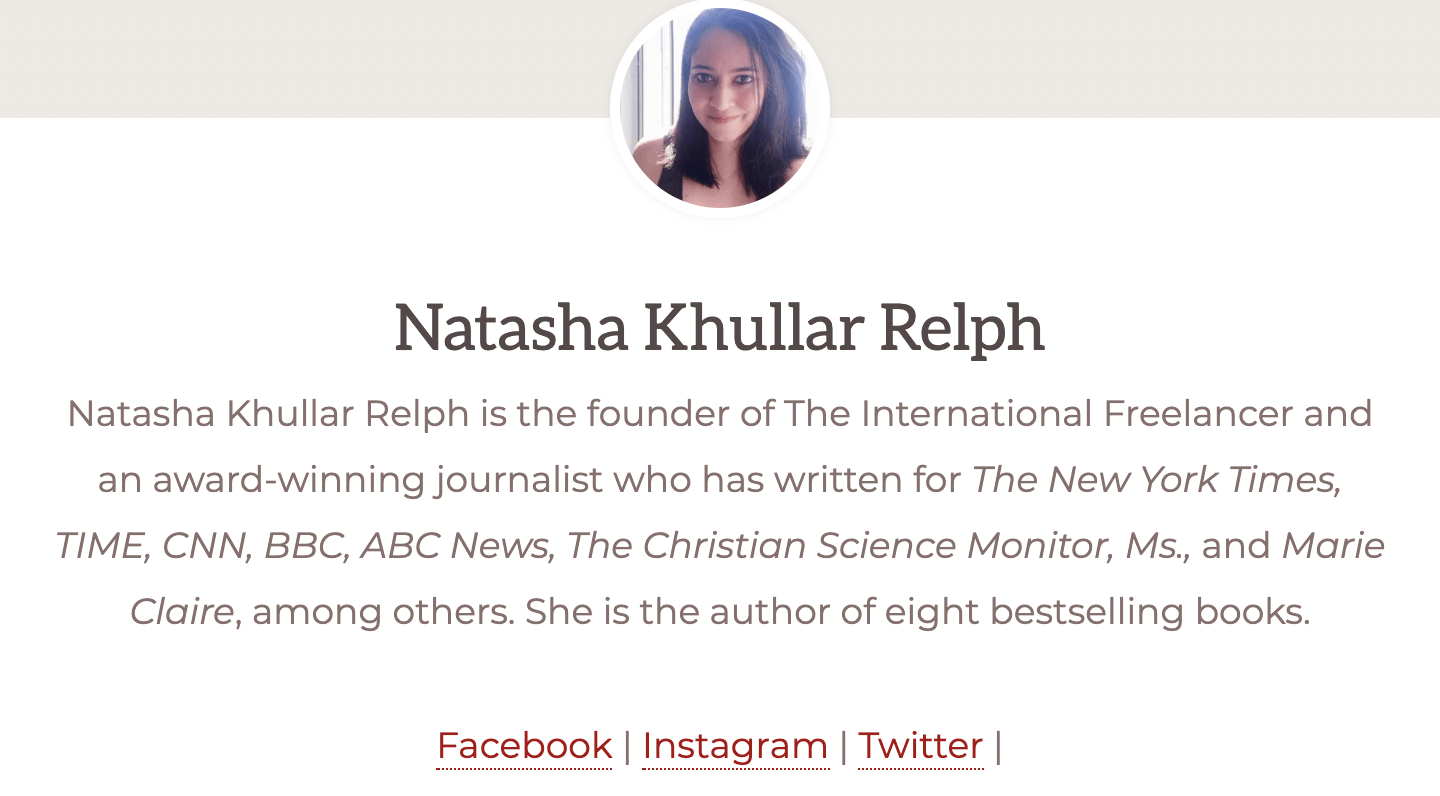 How To Write A Bio: Ultimate Guide (With Creative Examples)
So, you sit down to write your online bio, pumped to reveal to the world your professional self and achievements finally, and nothing happens. All of the words and phrases you had been stockpiling for months in your head suddenly disappeared.
Finding an authentic way to describe your professional background and showcasing yourself as a credible, accomplished, and likable expert in the industry takes a lot of work. You decide your current profile is good enough. It works for you. Simple.
However, what most people often forget is that a bio isn't just about listing professional achievements. It is a conversation starter, a way of making a digital introduction. Also, your bio — no matter how articulate and insightful — doesn't need to appeal to everyone.
Step 1: Choose The Tone Of Your Bio Depending On The Platform
Context plays a vital role in whether your bio should be written in the first or third person. For most professional websites, writing in the third person might make sense. It also feels a bit self-congratulatory. However, the first person makes it a more personal experience.
Venture Capitalist Mark Gallion has different versions of his bio all over the internet. Of course, some are more formal than others. However, when it comes to Twitter, he prefers phrasing his information in a way that helps him engage with his audience on a human level.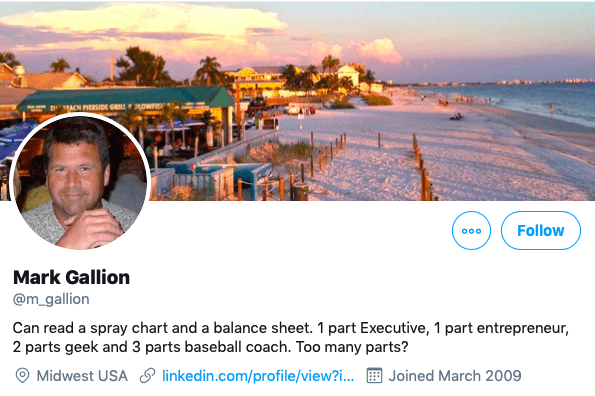 In under 160 characters, he not only shares the details about his professional life but also highlights his love for baseball. Therefore, communicate who you are in a tone that's most suitable for your audience.
Gallion leverages his Twitter bio to connect with like-minded potential investors and followers. Therefore, you are free to make your bio funny, personal, formal, conversational, and the like depending on the platform you're writing it for.
1. Your LinkedIn summary
Whatever you're seeking, your LinkedIn summary should support your activity on the site; a profile focused on networking within the industry will read differently than that of someone aggressively hunting for a new job. Once you've identified your purpose, it will be much easier to tweak the above template for your LinkedIn summary. You'll still want to lead with your position and other info from the first paragraph of the bio template. Then move onto whatever skills or accomplishments are most relevant to your LinkedIn goals. Last, share those goals.
As a field sales manager with over eight years of experience driving market share growth in designated territories, I have mastered the ins and outs of pharmaceutical sales and territorial prospecting. After honing and executing these specialties to reach numerous company goals, I was honored with an invitation to join the National Marketing Council. Now, I spend the majority of my time brainstorming sales strategies and connecting with other industry professionals who are interested in talking shop.
You can always add supporting content on either side of this skeleton paragraph, such as a personal anecdote, previous positions, or a mission statement. If you need a bit more inspiration, look to your recommendations for outside opinions on what makes you special.
How do you write a short professional bio?
Before we delve into professional bio examples, here are tips on how to write one. First, you want to keep your bio simple. Simple isn't bad; you can tell a strong story with simple sentences if you can weave those sentences into a cohesive narrative. Here's a video guide to help you write a compelling professional bio:
Before writing your bio, consider if you want to write in a more professional or more casual manner. Take a few factors into account, such as your field, title, and intention. Choose what you think is more effective in selling yourself.
Introduction
Professional Background
Explain what you do. You don't have to summarize your professional experience. Simply elaborate on your current title(s) and the duties that come with it. Assume that readers don't know what roles your titles entail.
Mention your professional accomplishments here, especially those relevant to your current role. When written well, this lends credence to your skills. You don't need to specify your skills if this part is well-written; your career highlights can speak for themselves.
High-level professionals may add any previous roles and their respective accomplishments here. For beginners in the field, consider adding any strong roles you've had within organizations.
Make sure that your additions are relevant to your narrative. For instance, if you are trying to establish your medical expertise, it's not a good idea to add non-medical achievements unless they played key roles to strengthen your medical accomplishments.
Personal Details
Explain how you do what you do well. This is the humanizing element to your professional bio. In this part you may share your values, beliefs, and passions (and how they influence your work ethic). If you increased successful dog adoptions in your local humane society, consider including this sentence in your professional bio to make it more impactful:
After adopting Maxie, an old German Shepherd who went through three homes and five years alone in an animal shelter, I made it my mission to ensure that every dog up for adoption gets a loving family that fits their unique personality and needs.
You may also add any degrees you have here, especially if they are relevant to your area of expertise. These additions will further establish your credibility.
Lastly, you may add a few personal details in the last sentences of your professional bio. These will help make you relatable to your audience. You want not only to impress your readers, but also to connect with them. You want them to contact you.
Professional Bio Examples
If you're still unsure about how to write one, take a look at the professional bio examples we've provided below. We've also added divisions for the three general parts of a professional bio.
1. Company Website (Anne T. Madden | Honeywell)
Her introduction is straightforward, because the meat of her biography is in the second to fourth paragraphs. She informs the reader of the roles that her titles entail. Her previous work is also stated here, presented with concrete evidence of her success. It is a strong showing of her competence.
2. Personal Brand (Nandini Jammi)
Her introduction is greatly emphasized, and for good reason: Co-founding a consultancy that regularly works with Fortune 500 companies is very impressive. She also includes her identity as an activist in the first sentence of her biography. This informs the reader that her beliefs are a strong influence on her work.
The second part of her biography narrates how she got immersed into her area of expertise. She also states how her campaign Sleeping Giants won awards and became a catalyst for a global movement in the world of brand safety and content moderation.
While there's not many explicit mentions of her beliefs, we can infer that she's very keen on fighting against discrimination and believes that it has no place in marketing. We can see this in her elaboration of Sleeping Giants and the #StopHateForProfit campaign.
3. Long Bio (Joaquin Duato | Johnson & Johnson)
Joaquin Duato's writeup is one of the best professional bio examples, a long written tool that still keeps a tight narrative. Every sentence has a purpose; they only add to his credibility and keep the readers' attention.
The second set of text expounds on his duties and especially his accomplishments within Johnson & Johnson. There is clear proof of his impact within the company that further cements his credibility in the field.
Finally, the last set of text gives us insight into what he brings to the company. In this case, he offers a unique perspective that comes from his personal experiences and history as a dual citizen and leadership in global healthcare organizations. We also see that his values directly influence his actions outside of work.
4. Short Bio (Dennis Krawec | Personal Brand)
His introduction establishes his specializations as a creative artist. It's simple, but impressive nonetheless. The second paragraph briefly showcases his successes in his area of expertise that lend credence to his introduction. Lastly, he ends off on a personal touch by including one of his hobbies and interests. Also note the links to his social media profiles, similar to Nandini's.
Resource:
https://elitecontentmarketer.com/how-to-write-a-bio-examples/
https://www.themuse.com/advice/the-professional-bio-template-that-makes-everyone-sound-accomplished
https://www.resumeprofessionalwriters.com/professional-bio-examples-tips/